Radon Gas Testing & Safety Products | Facts about Radon
What is radon?
Radon is a radioactive gas found in soil, rocks, and groundwater. It is released naturally due to the breakdown of uranium and can accumulate inside buildings by seeping through cracks or other openings in the foundation. Radon can also get into a house through well-water. Radon gas creates dangerous conditions for humans, since exposure to it has been found to cause lung cancer. Since you cannot see, smell, or taste radon gas, your only option is to test for it.
Is radon serious?
Radon is the leading cause of lung cancer for non-smokers, and according to EPA estimates, more than 20,000 people die from radon-related lung cancer every year in the United States. People who smoke and are exposed to radon gas have an especially high risk of lung cancer.
Where is radon located?
Dangerously high radon levels have been found in every state in the US. One of the most challenging things about radon is that any home can have a radon problem: new or old houses, and houses both with or without basements. The radon level can vary greatly from house to house, even within the same neighborhood. Since you cannot predict which homes will have high radon levels based on location or other factors, it is essential for all homeowners to test their homes, regardless of whether neighbors have radon problems or not.
Radon Testing and Mitigation
The unit of measurement used to assess radon gas is picocuries per liter of air. A normal (average) radon level inside a building would be 1.3 pCi/L. Outside, the average reading is 0.4 pCi/L. According to the EPA, homeowners should consider mitigating their home's radon level if it is between 2 pCi/L and 4 pCi/L. If the level is at 4 pCi/L or higher, the US Surgeon General recommends that people fix the radon issue in their home.
Everyone should get their homes tested - there is no reason not to. Ideally, have the house tested before you move in, even if it was built with radon-resisted construction methods. The tests are generally simple to perform, and if your home is found to have a radon issue, it can be mitigated, reducing your household's risk of lung cancer. If you find that your home does have a radon problem, contact your state's radon office. They will be able to put you in touch with local radon mitigation contractors. Even if you find that your home has a high radon level, there are generally ways to reduce it to an acceptable level.
Advances in construction techniques and materials have made it possible for new homes to be built with radon-resistant construction. If performed correctly, radon-resistant construction methods have been found to reduce the risk of lung cancer caused by radon in the house. These methods typically do not add much to the construction cost of a new house – often less than $1000 for a new house. It usually is, however, more expensive to go back and mitigate a radon problem after the fact in an existing house. Radon resistant building techniques include: gas-permeable layers below the slab to allow gas to move beneath the house, plastic sheeting over the gas-permeable layer, proper sealing and caulking in the foundation, vent piping to allow gas to leave the gas-permeable layer without getting into the house, and an electrical junction box in the attic to make it easy to install a vent fan.
If you find that your home has radon issues that need to be addressed, contact a qualified radon mitigation expert. Radon mitigation techniques for existing homes include sealing cracks and openings in the foundation, as well as installing vent pipes and fans. Other actions may be appropriate as well, depending on your specific situation.
Home Renovations
When performing renovations on your house, especially projects that involve lower floors, like finishing the basement, it is important to do radon tests before you begin, so that you can address radon issues while you are renovating. Later, perform another test once the renovations are done, in case the renovations happened to alter the home's permeability, allowing radon gas to enter the structure.
Buying and Selling Houses
Before putting your home on the market, it is a good idea to perform a radon test first, taking steps to address any radon problems that arise. Prospective buyers will likely ask you about your home's radon level, so it makes sense to be prepared with this information and perform any necessary mitigation ahead of time. If you are in the process of buying a home, find out the indoor radon levels before purchasing the property. Regardless of whether the property had been tested in the past, you may also want to have a new test taken. When discussing radon tests, take into account information such as the following: how long ago was the previous test, did a radon professional or the home owner perform the test, where in the home was the test taken (especially important if you intend to live on a lower floor of the house), and what changes have been made to the home since the test was performed? Also, if the house has radon reduction equipment, find out if that equipment is appropriate for the house and in good condition before buying.
Sump Pit Covers and Radon Test Kits
One of the ways that radon gas can enter your basement is through your sump pit. To cover and seal your sump pit, we offer The Original Radon/Sump Dome made by Jackal. See below for this product, as well as radon text kits you can use to assess your home's radon levels.
Products:
Sold Out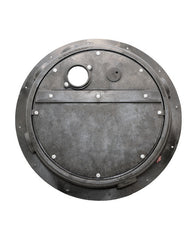 The Original Radon/Sump Dome™
$ 169.00
The Original Radon/Sump Dome™
Open or unsealed sump pits invite hazards such as radon gas, odors, and insects, and can be dangerous to small children and pets.
Cover and seal your sump with The Original Radon/Sump Dome™ to mitigate these issues and make your home healthier and safer.
Allows access for servicing your sump pump and controls.
Easy to install.
Radon Test Kit - Long Term Alpha Track Kit
Long-term passive radon test device - longer than 90 days
Rated #1 by a leading national consumer advocacy group.
Kit includes a single device, instructions, laboratory analysis, & return postage for test results.
Use a long-term radon test kit to determine your home's exposure to radon during different seasons and living conditions.
Closed house conditions are not necessary during a long term test.
To perform test, leave the test device(s) exposed for 91 days to 12 months under normal living conditions.
Basement Health Kit (Radon Test Kit & HygienicAire Treatment Compound)
Kit includes a Radon Gas Test Kit and HygienicAire compound to help ensure cleaner air flow throughout your basement.
Radon test kit is a Long Term Alpha Track Kit (AT-100) from AccuStar Labs. See this test kit's product page on our website for more information on it.
HygienicAire helps control the spread of odors, mold, mildew, and allergens - perfect for use in basements, ventilation systems, and other places where clean air is important.