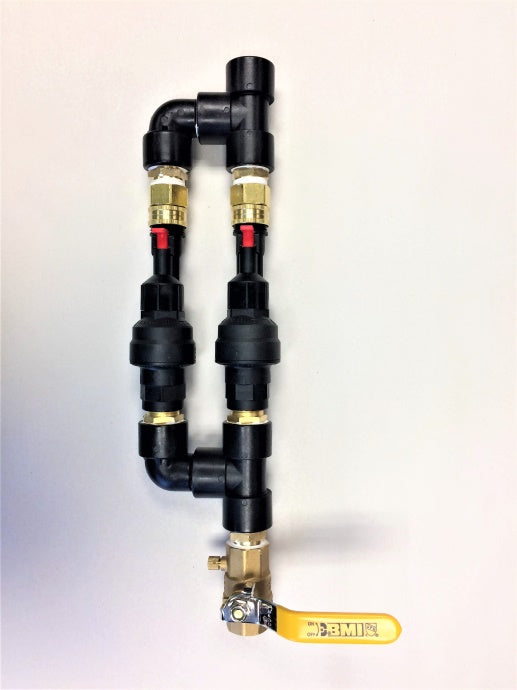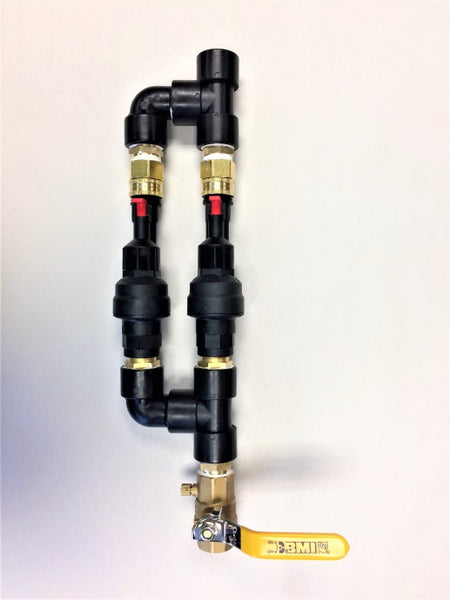 Quick Summary
Excess water flow shut-off valve; Operates automatically.
Helps to prevent or minimize water damage from a malfunctioning appliance by shutting off the water flow if its volume becomes excessive.
WB-26 model is for high volume applications, up to 26 gallons per continuous water flow cycle.
Ideal uses include: Houses, condos, apartments, campers, green houses, utility rooms, offices, kitchen areas, or any water line application that would not exceed 26 gallons per use during normal operation.
Materials Include: (2) Waterblock excess flow valves, brass ball valve, quick disconnect garden hose fittings, polypropylene pipe fittings, flow adjustment key, reset modules
Technical Details
Water Flow Rates: minimum of 1 GPM; maximum of 15 GPM
Water Volume Rates: between 2 and 26 gallons
End Connections: Female Thread; 3/4" inlet x 1/2" outlet
Length: 14" without reset, 16" with reset. Weight: 2 lbs.
Expected Life: Approximately 160,000 gallons total water volume before replacement.
WaterBlock is not a whole house shutoff valve. Instead, you install it in the water line feeding a particular fixture or appliance.
WaterBlock must be mounted vertically, with water flow either up or down.
Shipping Information
Free standard ground shipping to the continental USA.

Canadian customers:

We must process your orders over the phone. To place an order, call us at 800-318-4159. Ground shipping to Canada is $23 (includes customs duty).
Call us for quotes to Alaska and Hawaii, or for Second Day or Next Day Air Shipping quotes.