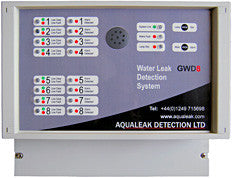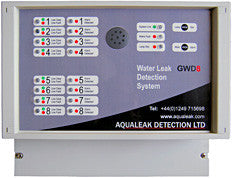 Aqualeak systems are designed to handle a wide range of commercial applications. Call us at 1-800-318-4159 to order or to discuss how Aqualeak can be tailored to meet your business or municipal needs.
For our full lineup of sensor-based commercial leak detection equipment, see our water leak detection system category page.
PDF information sheet available: Multi-Zone Water Leak Detector
Quick Summary
Multiple-zone water leak detection system designed for commercial properties where high value equipment, information, or materials are present
Available in sizes from 1 to 128 zones
Monitors for water leaks and outputs an audio visual alarm relevant to the zone
Can work with a variety of sensor types, including water sensing cables and probes
Can be connected to a BMS and other devices, such as solenoid valves, to switch off the water supply.
Zones, Pricing, and Model Numbers:
Note: A selection of popular sizes are shown below. Other sizes are available, up to 128 zones. Call for specifics and pricing.
2-Zone: $1,365.00 (GWD2)
4-Zone: $1,864.00 (GWD4)
8-Zone: $3,129.00 (GWD8)
Overview:
The Aqualeak GWD water leak detector offers multiple zone leak detection monitoring for up to 128 individual areas. The GWD is designed to detect the ingress of water in sensitive areas where high value equipment, information, or materials are present. It is capable of working with a variety of detection devices (sold separately, see sensors' product pages) including sensor cables and probes.
The GWD monitors for faults on the cable and can detect cable breaks and broken connections. Also, it can be connected to a BMS and other devices, such as solenoid valves, to switch off the water supply.
When it detects the presence of water the GWD goes into alarm status, sounding a buzzer and illuminating a LED specifying the zone where the leak occurred. When in alarm status, the relay will change over, allowing onward signaling of the event and mechanical switching of valves and pumps. Two common alarm outputs are standard, however, individual output relays can be used to perform a function specific to each zone.
Typical applications include multiple-zone monitoring of: archive rooms, communications rooms, computer rooms, electrical switch rooms, boiler houses, plant rooms, and large data centers.
The GWD multi-zone leak detector has been successfully installed in large data centers where there is the presence of chilled water.
Specifications:
Dimensions: (2 - 8 Zone) 217 x 257 x 112 mm
Dimensions: (9 - 16 Zone) 380 x 280 x 130 mm
Dimensions: (17 - 32 Zone) 600 x 300 x 130 mm
Dimensions: (33 - 64 Zone) 300 x 610 x 132 mm
Power Supply: 240 VAC (12 - 24V version available)
Relay Rating: 230 VAC 8 amp
Sensor Types
The GWD Water Leak Detector and the single zone Waterbug can both use the same variety of sensors. The most common are listed below. See the sensors' individual product pages for more information.
Shipping: Shipping charges apply. Call for specific shipping costs for your location.
To see other leak detection devices available, use the product navigation links on the top left of this page or go to our Aqualeak product category page. In addition to water leak systems, we also carry oil leak detection systems, including the single zone Oilbug and the multi-zone RGO Oil Leak Detection system. There are also a range of additional niche items in the Aqualeak product line, besides the products shown on our site - call us for further information.