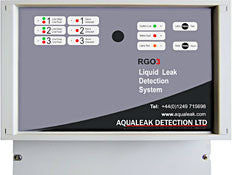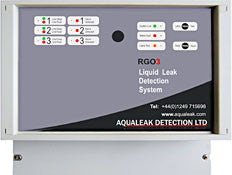 Aqualeak systems are designed to handle a wide range of commercial applications. Call us at 1-800-318-4159 to order or to discuss how Aqualeak can be tailored to meet your business or municipal needs.
For other oil leak detection products we offer, see our water and oil leak detector category page.
PDF information sheet available: RGO Multi-zone Oil Leak Detection Monitor
Quick Summary
Multi-zone oil leak detection system with audio and visual alarm
Available in sizes from 1 to 32 individual zones
Battery backup available, allowing the system to remain functioning after a power outage
Comes with 2 common alarm volt-free changeover relays for onward signaling
Zones, Pricing, and Model Numbers:
Note: A selection of popular sizes are shown below. Other sizes are available, up to 32 zones. Call for specifics and pricing.
1-Zone: $1,130.00 (RGO1)
4-Zone: $1,744.00 (RGO4)
8-Zone: $2,868.00 (RGO8)
Overview:
The RGO offers multi-zone oil leak detection for up to 32 individual zones. The RGO utilizes the Redeye Sensor (sold separately, see the Redeye oil leak sensor product page), which can detect the presence of oil, diesel, and some chemicals and acids.
Early detection of oil leaks is critical, in order to prevent large liquid losses, potentially dangerous situations, and costly repairs. When it detects the presence of oil, diesel, or some chemicals, the Redeye sensor puts the system into alarm state. When in alarm state, an audio warning sounds and a visual output illuminates, indicating the zone in which the leak occurred.
The RGO comes with 2 common alarm volt free changeover relays for onward signaling. A battery backup is available, allowing the system to remain functional after a power outage.
Typical applications include:
Oil/diesel storage tanks
Fuel feed pipelines
Boiler houses
Factory/plant rooms
Specification:
Dimensions (mm): 255W x 215H x 125D
Power Supply: 110 / 230 VAC
Sensor Adjustment: 0mm to 25mm
Number of Sensors Accommodated: Maximum of 2 per zone
Maximum Cable Length: 100m
Relays: 240v/2amp – 240v/8amp
Shipping: Shipping charges apply. Call for specific shipping costs for your location.
To see other leak detection devices that we carry, such as the Oilbug Oil Leak Detection System, use the product navigation links on the top left of this page or go to our Aqualeak product category page. In addition to oil leak systems, we also carry water leak detectors, like the single-zone Waterbug Water Leak Detection system or the multiple-zone GWD Water Leak Detector. Besides the items shown on our site, there are also a range of additional niche products in the Aqualeak product line - call us for further information.