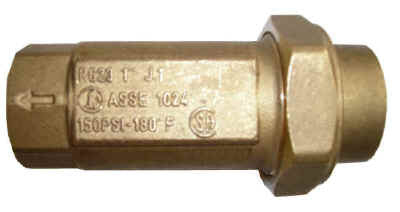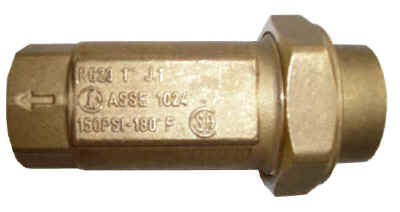 Quick Summary
Protects your potable water source from being contaminated by water from your sump pit.
For use with Basepump water powered sump pumps.
Manufacturer recommends using either this product or an Atmospheric Vacuum Breaker backflow preventer, to protect your clean water source.
Specifications
Protects your clean water source by closing 2 internal check valves every time the water stops or reverses direction.
Note: Basepump "AVB" models, which include an Atmospheric Vacuum Breaker backflow preventer, do not need this dual check valve, unless your town's plumbing department requires it.
Installation: Connect Dual Check Valve to the water supply end of the Basepump. Then, insert a male adapter into the other end. Both sides have female threaded openings.
Sizes available: 1/2", 3/4", 1". See prices in dropdown box above.
Item Included:
Shipping Information
Shipping weight: 1 lb.
Free standard ground shipping to the continental USA.

Canadian customers:

We must process your orders over the phone. To place an order, call us at 800-318-4159. Ground shipping to Canada is Free.
Call us for quotes to Alaska and Hawaii, or for Second Day or Next Day Air Shipping quotes.
Note: All prices in USD
Click to get back to the water powered sump pump category page.