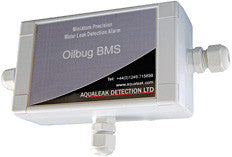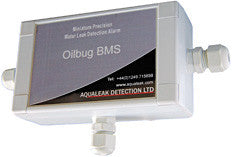 Aqualeak systems are designed to handle a wide range of commercial applications. Call us at 1-800-318-4159 to order or to discuss how Aqualeak can be tailored to meet your business or municipal needs.
For other oil leak detection products we offer, see our water and oil leak detector category page.
PDF information sheet available: Oilbug Oil Leak Monitor.
Quick Summary
Single zone oil leak detector. Typical applications include: oil/diesel storage tanks, fuel feed pipelines, boiler houses, and plant rooms.
Works with the Redeye sensor (sold separately) to provide spot monitoring for detection of oil and diesel leaks.
Volt free relay output allows onward connection to other systems such as a BMS
Models and Pricing:
Oilbug+Plus: $455.00 (OB110VAV)
Standard Oilbug: $270.00 (OB24V)
Overview:
The Oilbug single zone oil leak detection system works with a sensor unit called the Redeye, to detect the presence of substances such as oil and diesel. The Redeye sensor (sold separately, see the Redeye Oil Leak Sensor product page) employs sophisticated Optoschmitt technology to determine the presence of opaque liquids. The Oilbug provides spot monitoring for detection of oil and diesel leaks. It works from a mains or an external 12 – 24 VAC supply, and a volt free relay output allows onward connection to other systems such as a BMS.
When it detects the presence of oil or diesel, the Redeye sensor puts the Oilbug into an alarm state. There are two versions of the Oilbug: the standard Oilbug and the Oilbug+Plus. The standard Oilbug has no local alarm outputs and is simply connected via a volt free relay to the BMS. When a leak is detected, the relay will change over and the BMS will be alerted to the situation. The Oilbug+Plus has the same functionality as the standard Oilbug with the addition of a local audio and visual output on the alarm panel.
Typical Applications include:
Oil/diesel storage tanks
Fuel feed pipelines
Boiler houses
Factory/plant rooms
The Oilbug can use up to 2 Redeye sensors wired in parallel attached, allowing more than one area to be monitored simultaneously.
Specifications:
Dimensions: 127 x 75 x 45mm
Power Supply: 240VAC (12 -24V version available)
Housing: IP65
Relay Rating: 230VAC 2 amp
Sensor Adjustment: 0mm to 25mm
Number of Sensors Accommodated: Maximum of 2 wired in parallel
Shipping: Shipping charges apply. Call for specific shipping costs for your location.
To see other leak detection devices that we carry, such as the RGO Multi-Zone Oil Leak Detection system, use the product navigation links on the top left of this page or go to our Aqualeak product category page. In addition to oil leak systems, we also carry water leak detectors, like the single-zone Waterbug Water Leak Detection system or the multiple-zone GWD Water Leak Detector. Besides the items shown on our site, there are also a range of additional niche products in the Aqualeak product line - call us for further information.