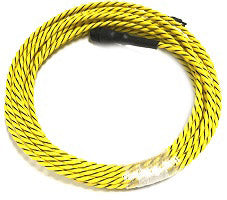 Aqualeak systems are designed to handle a wide range of commercial applications. Call us at 1-800-318-4159 to order or to discuss how Aqualeak can be tailored to meet your business or municipal needs.
For our full lineup of sensor-based commercial leak detection equipment, see our water leak detection system category page.
Quick Summary
Water leak detection cable, used to monitor for water leaks over an area or under a run of pipes.
Cables monitor for water along their full length and can be run in lengths between 3 and 300 feet.
The cable is constructed from a twisted insulated cable that acts as a carrier for a pair of single strand marine grade stainless steel conductors. Connectors are DIN type locking.
When water bridges across the conductors this triggers the alarm.
Sizes, Pricing, and Model Numbers:
10 feet: $86.00 (SCY03)
30 feet: $269.00 (SCY10)
50 feet: $378.00 (SCY15)
Note: Other lengths are available. Call for pricing.
Shipping charges apply. Call for specific shipping costs for your location.